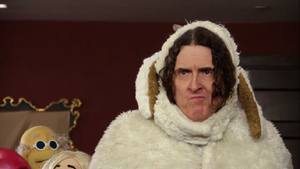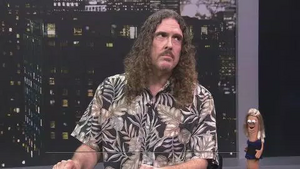 "Weird Al" Yankovic is an American singer-songwriter, music producer, accordionist, actor, comedian, writer, satirist, and parodist. Yankovic is known for his humorous songs that make light of popular culture and that often parody specific songs by contemporary musical acts. Since his first-aired comedy song in 1976, he has sold more than 12-million albums, recorded more than 150 parody and original songs, and has performed more than 1,000 live shows. His works have earned him four Grammy Awards among nine nominations, four gold records, and six platinum records in the United States.
Yankovic produced and star in "Face to Face with 'Weird Al' Yankovic" for the Nerdist Channel. To promote the launch of the show (as well as the Nerdist Channel), Yankovic appeared in a web video with Chris Hardwick and the Jim Henson Company's Miskreant Puppets announcing the channel's line-up where he was dressed as an animal.
Yankovic also appeared in an episode of Good Morning Today on Fusion. In the alternate universe where this show takes place, "Weird Al" Yankovic goes by "Sir Alfred Yankovic" and has a serious personality instead of comical. His songs are parodied by other artists. For example, "My Sharona" by The Knack is instead a parody of "My Bologna."
Yankovic later appeared on No, You Shut Up! in the episode "The One with the Brussel Sprouts" with his hot dog publicist Judy. He also accidentally hits Doug the Bat with a stick when he tries to ask a question.
External links
Edit
Ad blocker interference detected!
Wikia is a free-to-use site that makes money from advertising. We have a modified experience for viewers using ad blockers

Wikia is not accessible if you've made further modifications. Remove the custom ad blocker rule(s) and the page will load as expected.