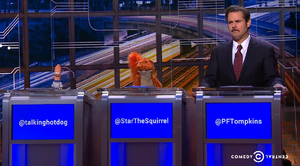 @midnight is an American late-night Internet-based panel game show hosted by Chris Hardwick on Comedy Central.
Hot Dog, Star Schlessinger and Paul F. Tompkins from No, You Shut Up! appeared as panelists on the February 23, 2015 episode.
External links
Edit
Ad blocker interference detected!
Wikia is a free-to-use site that makes money from advertising. We have a modified experience for viewers using ad blockers

Wikia is not accessible if you've made further modifications. Remove the custom ad blocker rule(s) and the page will load as expected.