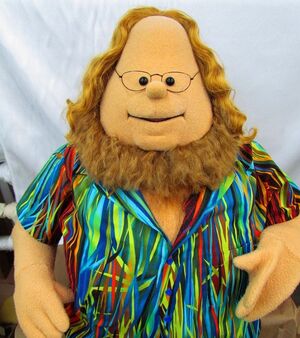 Ain't It Cool with Harry Knowles is an web series on the Nerdist Channel. The show is hosted by film critic Harry Knowles, known for his website called Ain't It Cool News, and focuses on film history, news and entertainment.
The Jim Henson's Creature Shop designed a puppet version of Knowles for use on the program.
The program is being produced in conjunction with Ain't it Cool News, Nerdist, Jim Henson's Creature Shop, and Broadway Video.
The puppet Harry Knowles first appeared in the show's second episode (posted April 12, 2012). In the episode, Harry uses his "Telepuppetor Device" to transport his puppet self to Los Angeles for the premiere of Comic-Con Episode IV: A Fan's Hope. On the carpet puppet Harry interviews director Morgan Spurlock, producer Stan Lee, comic-con expert Kevin Pereira, nerdist Chris Hardwick and stars Skip Harvey, James Darling and Se Young Darling.
In the May 3, 2012 episode, Knowles "telepuppeted" his way to LA's KNB makeup and effects studio to talk with the artists about special effects. (YouTube)
In the May 24, 2012 episode, the puppet interviewed Sesame Street performer Caroll Spinney and director John Landis. (YouTube)
External links
Edit
Ad blocker interference detected!
Wikia is a free-to-use site that makes money from advertising. We have a modified experience for viewers using ad blockers

Wikia is not accessible if you've made further modifications. Remove the custom ad blocker rule(s) and the page will load as expected.