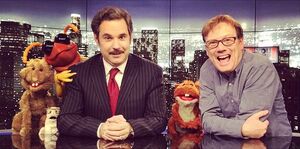 Andy Daly (b. 1971) is an American actor, comedian, and writer best known for starring as Forrest MacNeil on the Comedy Central series Review. He is also noted for playing Terrence Cutler in the HBO comedy series Eastbound & Down and for his two seasons as a cast member on Mad TV from 2000 to 2002. He has also had recurring roles on television programs such as The Life and Times of Tim, Delocated, Reno 911! and Comedy Bang! Bang!.
Daly appeared on No, You Shut Up! in the episode "Life Hacks."
External links
Edit
Ad blocker interference detected!
Wikia is a free-to-use site that makes money from advertising. We have a modified experience for viewers using ad blockers

Wikia is not accessible if you've made further modifications. Remove the custom ad blocker rule(s) and the page will load as expected.