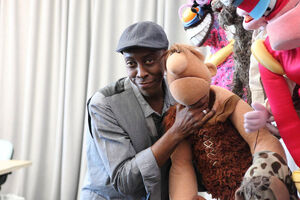 Arsenio Hall (b. 1956) is an actor, comedian, and former talk show host. He is best known for his talk show The Arsenio Hall Show, which ran between 1989 and 1994, and his roles in the films Coming to America and Harlem Nights.
Hall was a contestant in the fifth season of Celebrity Apprentice wherein he performed alongside Teresa Giudice in the Henson Alternative stage show Stuffed and Unstrung.
External links
Edit
Ad blocker interference detected!
Wikia is a free-to-use site that makes money from advertising. We have a modified experience for viewers using ad blockers

Wikia is not accessible if you've made further modifications. Remove the custom ad blocker rule(s) and the page will load as expected.