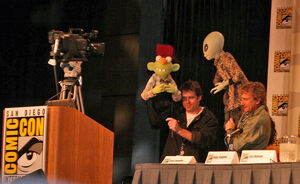 Ben Browder (born 1962) is an American actor and writer, best known for his roles as John Crichton in Farscape and Cameron Mitchell in Stargate SG-1.
Browder tried his hand at puppeteering during a Puppet Up! presentation the 2007 San Diego Comic-Con alongside Brian Henson (as Al the Alien) and Julianne Buescher (as Piddles).
External links
Edit
Ad blocker interference detected!
Wikia is a free-to-use site that makes money from advertising. We have a modified experience for viewers using ad blockers

Wikia is not accessible if you've made further modifications. Remove the custom ad blocker rule(s) and the page will load as expected.