Bollywood is the seventh, and final, episode of the webseries Neil's Puppet Dreams. The episode debuted on the Nerdist Channel on January 22, 2013.
In the episode, Neil dreams that he's part of an elaborate Bollywood musical number with a singing cow.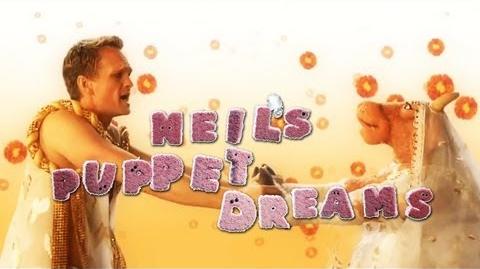 Cast:
Puppeteers:
Crew:
Faux Credits:
Bollywood King: Shah Rukh Khan
Bollywood Badboy: Salman Khan
Barfi Actress: Priyanka Chipra
Best Movie Title Ever: Dabangg 2
Best Boy: Gideon Scott Burtka-Harris
Best Girl Harper Grace Burtka-Harris
Valerie Harper: Rhoda
Awesome Hindi Music Video: Rhada
Frank Drebbin: Leslie Neilsen
Some puppets were harmed in the filming of this video. Mostly hamstring pulled and shin splints, as they aren't used to this much dancing.
External links
Edit
Ad blocker interference detected!
Wikia is a free-to-use site that makes money from advertising. We have a modified experience for viewers using ad blockers

Wikia is not accessible if you've made further modifications. Remove the custom ad blocker rule(s) and the page will load as expected.