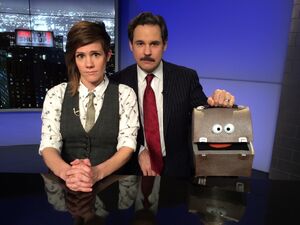 Cameron Esposito (b. 1981) is an American comedian best known for her stand-up comedy, which often focuses on LGBTQ+ topics and references aspects of her lesbian identity.
Esposito appeared in a web-video from the Montreal Comedy Festival in 2014 talking with Hot Dog from No, You Shut Up!.
Esposito also appeared in the No, You Shut Up! episode "It's Just Stupid."
External links
Edit
Ad blocker interference detected!
Wikia is a free-to-use site that makes money from advertising. We have a modified experience for viewers using ad blockers

Wikia is not accessible if you've made further modifications. Remove the custom ad blocker rule(s) and the page will load as expected.