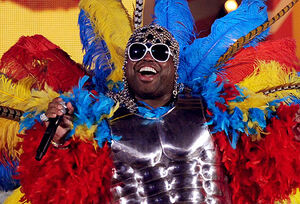 Thomas DeCarlo Callaway (born 1974), better known by his stage name Cee Lo Green, is an American singer-songwriter, rapper, and record producer. He came to prominence as a member of the southern hip-hop group Goodie Mob, later launching a critically acclaimed solo career and forming Gnarls Barkley with DJ/producer Danger Mouse.
Among Green's hits are the singles "Closet Freak", "I'll Be Around", "Crazy", and "Fuck You!"/"Forget You".
In February 2011, Cee Lo Green performed "Forget You" with the Henson Company puppets and Gwyneth Paltrow at the 53rd annual Grammy Awards.
External links
Edit
Ad blocker interference detected!
Wikia is a free-to-use site that makes money from advertising. We have a modified experience for viewers using ad blockers

Wikia is not accessible if you've made further modifications. Remove the custom ad blocker rule(s) and the page will load as expected.