Doctor's Office is the second episode of the webseries Neil's Puppet Dreams. The episode debuted on the Nerdist Channel on December 4, 2012.
In the episode, Neil visit a doctor about his puppet dreaming condition. He falls asleep and dreams he is visiting a puppet doctor; his unique physiology causes a stir in the puppet medical community.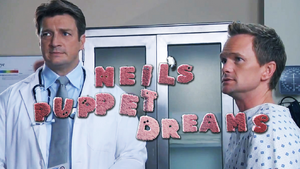 Cast:
Puppeteers:
Crew:
Faux Credits:
Shortstop: Cal Ripken Jr.
Godfather 2 > Godfather 1
Pornographic puppet travel provided by FedExExEx
Stand In For Nathan Fillion: Dathan Schmillian
Dick Trickle: himself
Alex Trebek: Will Ferrell
Frank Drebbin: Leslie Neilsen
A specific puppet was intentionally harmed in the making of this video
External links
Edit
Ad blocker interference detected!
Wikia is a free-to-use site that makes money from advertising. We have a modified experience for viewers using ad blockers

Wikia is not accessible if you've made further modifications. Remove the custom ad blocker rule(s) and the page will load as expected.