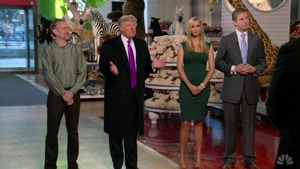 Donald Trump is an American real-estate mogul and television personality who serves as the 45th President of the United States. He is well-known as a real-estate developer who amassed vast hotel, casino, and other real-estate properties, in the New York City area and around the world. Trump's extravagant lifestyle, outspoken manner and role on the NBC reality show The Apprentice have made him a well-known celebrity. He won the 2016 Presidential Election, beating former First Lady and Secretary of State Hilary Clinton.
Trump hosted Celebrity Apprentice wherein contestants performed as part of the Henson Alternative stage show Stuffed and Unstrung.
External links
Edit
Ad blocker interference detected!
Wikia is a free-to-use site that makes money from advertising. We have a modified experience for viewers using ad blockers

Wikia is not accessible if you've made further modifications. Remove the custom ad blocker rule(s) and the page will load as expected.