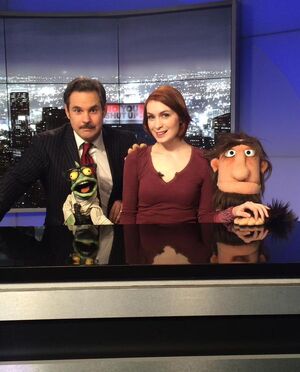 Felicia Day is an American actress, comedian, and writer. On TV, she has played Vi in the series Buffy the Vampire Slayer and Dr. Holly Marten in Eureka, and had a recurring role as Charlie on Supernatural. She has acted in movies such as Bring It On Again and June, as well as the Internet musical Dr. Horrible's Sing-Along Blog with Neil Patrick Harris. She is the star, writer, and producer of the original web series The Guild, a show loosely based on her life as a gamer.
Day appeared on No, You Shut Up! in the episode "#Drums."
External links
Edit
Ad blocker interference detected!
Wikia is a free-to-use site that makes money from advertising. We have a modified experience for viewers using ad blockers

Wikia is not accessible if you've made further modifications. Remove the custom ad blocker rule(s) and the page will load as expected.