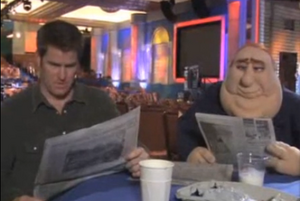 Jamie Kaler (born 1964) is an American stand-up comedian and actor who has gained fame by portraying the character Mike Callahan on the TBS sitcom "My Boys". He has appeared on such talk shows as the Late Late Show as well as having a role on the sitcom How I Met Your Mother, and had a recurring role on Will and Grace. He is a member of the ACME Company, ACME Comedy Theatre's top-level sketch company and has also made guest appearances on Friends and Monk. He was a member of Bill Engall's "Blue Collar: The Next Generation" which performed at the Comedy Festival in Las Vegas in 2007.
Kaler appeared in two episodes of Del's Vegas Comedy Binge, reading the newspaper with Del, and in alongside fellow next generation "Blue Collar" comedians - Reno Collier, Juston McKinney, and John Caparulo.
External links
Edit
Ad blocker interference detected!
Wikia is a free-to-use site that makes money from advertising. We have a modified experience for viewers using ad blockers

Wikia is not accessible if you've made further modifications. Remove the custom ad blocker rule(s) and the page will load as expected.