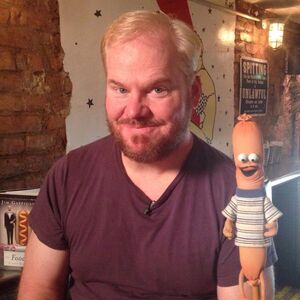 Jim Gaffigan (b. 1966) is an American stand-up comedian, actor, and author. His humor largely revolves around fatherhood, observations, and—most notably—food.
In 2014, Gaffigan was interviewed by Hot Dog from No, You Shut Up! about his book "Food: A Love Story."
External links
Edit
Ad blocker interference detected!
Wikia is a free-to-use site that makes money from advertising. We have a modified experience for viewers using ad blockers

Wikia is not accessible if you've made further modifications. Remove the custom ad blocker rule(s) and the page will load as expected.