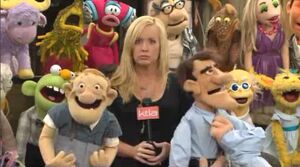 The KTLA Morning News is a morning television newscast airing on CW affiliate KTLA (channel 5) in Los Angeles, California.
To promote the troupe's monthly shows at the Avalon in Hollywood, characters from Puppet Up! - Uncensored appeared on KTLA's August 21, 2009 morning news. Performers Drew Massey and Michael Oosterom performed a variety of characters alongside reporter Allie MacKay as she reported live from the Henson Workshop.
External links
Edit
Ad blocker interference detected!
Wikia is a free-to-use site that makes money from advertising. We have a modified experience for viewers using ad blockers

Wikia is not accessible if you've made further modifications. Remove the custom ad blocker rule(s) and the page will load as expected.