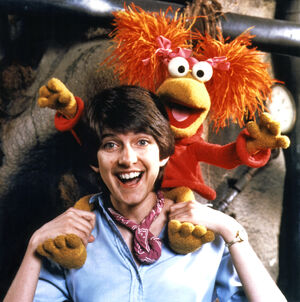 Karen Prell is a puppeteer and animator. Born in Florida, Prell first worked with Jim Henson in 1979 performing characters on Sesame Street and subsequently working on the final season of The Muppet Show. She later took on the lead role of Red Fraggle on Henson's Fraggle Rock and worked as a lead puppeteer on Jim Henson's Animal Show, The Ghost of Faffner Hall and Mother Goose Stories. Prell also performed on the Creature Shop films Dreamchild and Labyrinth.
In 2006, Prell performed Spank, a bass guitar playing monkey, in the two pilot episodes of the Henson Alternative talk show Late Night Buffet with Augie and Del.
External links
Edit
Ad blocker interference detected!
Wikia is a free-to-use site that makes money from advertising. We have a modified experience for viewers using ad blockers

Wikia is not accessible if you've made further modifications. Remove the custom ad blocker rule(s) and the page will load as expected.