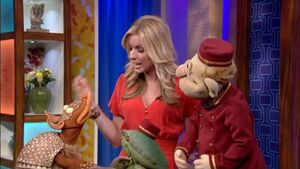 LX New York is a live, daily, lifestyle show produced by LX.TV, airing weekdays on NBC 4 New York. The show features fashion, beauty, celebrity interviews, cooking, arts and tri-state area stories.
To promote the debut run of Stuffed and Unstrung in New York, characters from the show appeared on the May 3, 2010 broadcast on LX New York. Performers Brian Henson, Bill Barretta and Leslie Carrara-Rudolph performed characters alongside Sara Gore, Jane Hanson and Maria Sansone as they reported on the news live from the studio; Sansone also appeared a pre-recorded segment featuring an interview with Brian Henson and footage of Sansone's visit behind the scenes of the show (including Sansone's attempt at puppeteering with Brian Henson and Ted Michaels).

Ad blocker interference detected!
Wikia is a free-to-use site that makes money from advertising. We have a modified experience for viewers using ad blockers

Wikia is not accessible if you've made further modifications. Remove the custom ad blocker rule(s) and the page will load as expected.