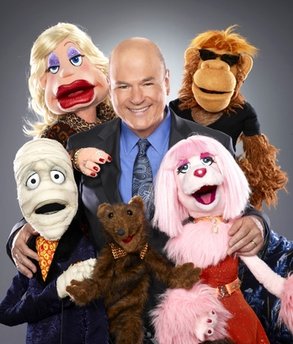 Larry Miller is the host of the Henson Alternative game show Late Night Liars.
Larry Miller has appeared in numerous films and television shows. Millers began his career with a memorable cameo as the brown-nosing store manager in "Pretty Woman" and has since gone on to be featured in such films as "Best in Show," "Waiting for Guffman," "The Princess Diaries" and "The Nutty Professor." Miller currently stars as the over-protective father in the ABC Family television series "10 Things I Hate About You," which is based on the 1999 film he also co-starred in. In addition, Miller frequently performs stand-up throughout the country, often opening for his longtime friend, Jerry Seinfeld. He is also the author of the best-selling book "Spoiled Rotten America," and is a frequent contributor to The Huffington Post.
Ad blocker interference detected!
Wikia is a free-to-use site that makes money from advertising. We have a modified experience for viewers using ad blockers

Wikia is not accessible if you've made further modifications. Remove the custom ad blocker rule(s) and the page will load as expected.