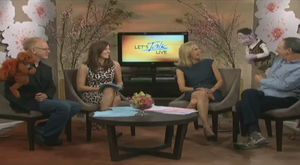 Let's Talk Live is a local talk, entertainment, style, fitness and health show on ABC 7 in Washington, DC. The show is hosted by Natasha Barrett and Melanie Hastings.
Patrick Bristow and Allan Trautman appeared on the program on April 18, 2012 (along with a squirrel puppet and a boy puppet named "Wally") to discuss and promote Stuffed and Unstrung.
External links
Edit
Ad blocker interference detected!
Wikia is a free-to-use site that makes money from advertising. We have a modified experience for viewers using ad blockers

Wikia is not accessible if you've made further modifications. Remove the custom ad blocker rule(s) and the page will load as expected.