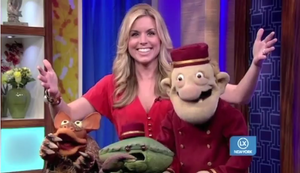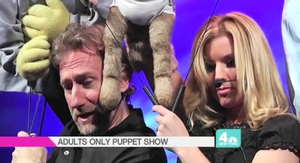 Maria Sansone (born February 26, 1981) is a American television personality and currently the co-anchor of Good Day L.A. on KTTV FOX 11 in Los Angeles. She is former field reporter for WNBC 4 New York who appeared daily on LX New York. As a television host and reporter, she has also contributed to Access Hollywood, Extra, ABC, NBC, MTV, TV Guide Network, Yahoo!, CBS Sports, NESN and ESPN. Sansone started in television at age eleven doing reporting for Good Morning America and The Tonight Show. She also co-hosted Live! with Regis and Kelly alongside Regis Philbin when Kelly Ripa was on maternity leave. Maria is married to Joshua Guthartz (m.2008). On July 15, 2013 live on Good Day LA, she announced that she was having a baby due around Christmas time. On December 31, 2013 she gave birth to a baby girl named Grace Louise.
To promote the debut run of Henson Alternative's Stuffed and Unstrung in New York, characters from the show appeared on LX New York. In addition to appearing alongside the show's characters live in the studio; Sansone also appeared in a pre-recorded segment featuring an interview with Brian Henson and footage of her visit behind the scenes of the show (including Sansone's attempt at puppeteering in a sketch with Brian Henson and Ted Michaels).
Sansone reconnected with the Stuffed and Unstrung cast on Good Day L.A. in 2012. She spoke from the studio with reporter Lauren Sivan and the puppets in the Henson workshop.
External links
Edit
Ad blocker interference detected!
Wikia is a free-to-use site that makes money from advertising. We have a modified experience for viewers using ad blockers

Wikia is not accessible if you've made further modifications. Remove the custom ad blocker rule(s) and the page will load as expected.