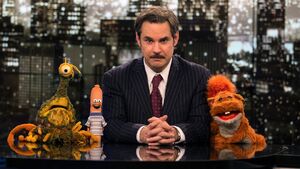 Paul F. Tompkins (born September 12, 1968) is an actor, comedian, and writer. He is known for his work in television on such programs as Mr. Show with Bob and David, Real Time with Bill Maher, and Best Week Ever (which was later renamed Best Week Ever with Paul F. Tompkins).
He is the host of No, You Shut Up!.
Ad blocker interference detected!
Wikia is a free-to-use site that makes money from advertising. We have a modified experience for viewers using ad blockers

Wikia is not accessible if you've made further modifications. Remove the custom ad blocker rule(s) and the page will load as expected.