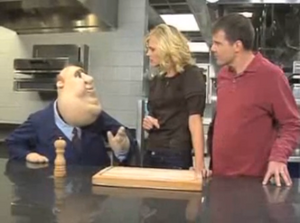 Paul Gilmartin is an American comedian actress best known for co-hosting TBS's Dinner and a Movie alongside Janet Varney.
Gilmartin has co-hosted Dinner and a Movie since 1995, for which he's been nominated for a Cable ACE Award. Prior to that he was a writer for the Emmy Awards and for The Dennis Miller Show. Gilmartin studied at the Second City Training Center in Chicago and has been performing stand-up comedy since 1987.
Gilmartin appeared alongside Janet Varney in an episode of Del's Vegas Comedy Binge. Del stumbles into the pair while wandering a Las Vegas kitchen in search of a sandwich.
External links
Edit
Ad blocker interference detected!
Wikia is a free-to-use site that makes money from advertising. We have a modified experience for viewers using ad blockers

Wikia is not accessible if you've made further modifications. Remove the custom ad blocker rule(s) and the page will load as expected.