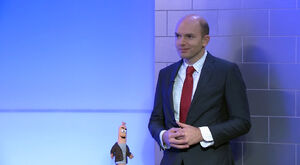 Paul Scheer (b. 1976) is an American actor, comedian, writer, director, and producer. Scheer stars on the FX series The League, the ABC sitcom Fresh Off the Boat, and the Hulu comedy series The Hotwives, which he also executive produces. His film credits include supporting roles in Daddy's Home, Hell Baby, Ass Backwards, Clear History, and Hell & Back. Scheer has also made appearances on comedy programs such as Adventure Time, Kroll Show, 30 Rock, Best Week Ever, Parks and Recreation, and Yo Gabba Gabba.
Scheer appeared year-end special of No, You Shut Up! in 2014 where he is depicted as the host of the fictional show "Hush Now, Hush Now."
External links
Edit
Ad blocker interference detected!
Wikia is a free-to-use site that makes money from advertising. We have a modified experience for viewers using ad blockers

Wikia is not accessible if you've made further modifications. Remove the custom ad blocker rule(s) and the page will load as expected.