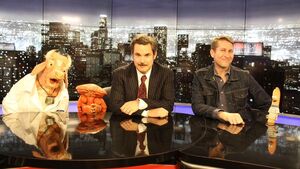 Scott Aukerman (b. 1970) is an Emmy Award-winning American writer, actor, comedian, television personality, director, producer, and podcast host. Aukerman is best known as the host of the weekly comedy podcast Comedy Bang! Bang! as well as the IFC original television series Comedy Bang! Bang!. Aukerman is the co-creator of Between Two Ferns with Zach Galifianakis and co-founder of the Earwolf podcast network. He has been a guest on Last Call with Carson Daly as well as a writer and performer in the later seasons of the sketch series Mr. Show with Bob and David.
Aukerman appeared on No, You Shut Up! in the episode "[[Ski Lodge High]."
External links
Edit
Ad blocker interference detected!
Wikia is a free-to-use site that makes money from advertising. We have a modified experience for viewers using ad blockers

Wikia is not accessible if you've made further modifications. Remove the custom ad blocker rule(s) and the page will load as expected.