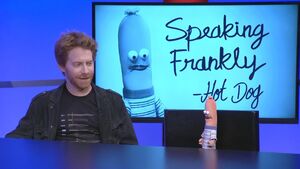 Seth Green (b. 1974) is an American actor, comedian, producer, writer, and director. Green is the creator and executive producer and most-frequent voice on Adult Swim's Robot Chicken, where he is also a writer and director. He has starred in the feature films Can't Hardly Wait, Without a Paddle and all three Austin Powers films, among others. He is also known for his role as Chris Griffin on Fox's Family Guy and previously as Daniel "Oz" Osbourne in Buffy the Vampire Slayer, and as Jimmy Bende on Greg the Bunny.
Green appeared on No, You Shut Up! in the episode "Worldwide Weight."
External links
Edit
Ad blocker interference detected!
Wikia is a free-to-use site that makes money from advertising. We have a modified experience for viewers using ad blockers

Wikia is not accessible if you've made further modifications. Remove the custom ad blocker rule(s) and the page will load as expected.