"Sheet Cakes" is an episode of No, You Shut Up! that first aired on Fusion on April 16, 2015. Wendi McLendon-Covey, Pete Holmes, Kate Micucci and Riki Lindhome appear.
In "Star's Wars," Star Schlessinger and Barry debate about the banning of gay people at a pizza restaurant. Wendi McLendon-Covey talks about Repeat After Me through her service person Darryl. Pete Holmes gives Paul F. Tompkins a plant as a gift and does a sheet cake-themed podcast talking about the latest episodes of Castle. Paul, Hot Dog, Senator George Galapagos, Dwayne Johnson, and Pete Holmes talk about the sharing economy. Kate Micucci and Riki Lindhome cover for Paul when he has to leave take part in a basketball game.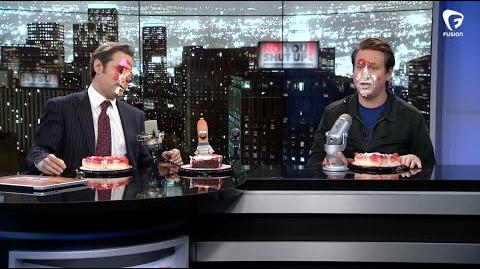 Ad blocker interference detected!
Wikia is a free-to-use site that makes money from advertising. We have a modified experience for viewers using ad blockers

Wikia is not accessible if you've made further modifications. Remove the custom ad blocker rule(s) and the page will load as expected.