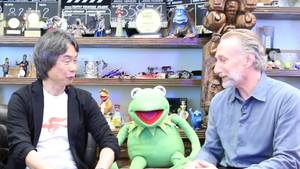 Shigeru Miyamoto (b.1952) is a Japanese video game developer and producer who serves as the Representative Director of Nintendo, he is known for creating many of Nintendos most popular series, such as Donkey Kong, Star Fox and Mario.
In 2015 a puppet likeness was contructed for the 2015 Nintendo Digital Event. He also met Brian Henson, and took a tour of the Jim Henson Studios.
Ad blocker interference detected!
Wikia is a free-to-use site that makes money from advertising. We have a modified experience for viewers using ad blockers

Wikia is not accessible if you've made further modifications. Remove the custom ad blocker rule(s) and the page will load as expected.