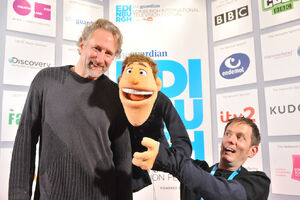 The Guardian Edinburgh International Television Festival (GEITF) is one of the most prestigious media events in the UK – bringing together all parts of the television and digital world to celebrate the creativity, diversity and inspirational talent in the field. The Festival draws over 2,000 delegates from the major networks and production companies.
Brian Henson's Evolution of PuppetryEdit
Brian Henson gave a presentation in 2013 on how the Henson-style revolutionised puppetry and how it paved the way for many of the puppetry and animation techniques used today. Henson (with an armadillo puppet) and Dave Chapman (with Dougie Colon) demonstrated various puppetery techniques. Henson also presented an overview of the groundbreaking technical achievements in animatronics and digital puppetry that continue to be a part of the company's work.
Ad blocker interference detected!
Wikia is a free-to-use site that makes money from advertising. We have a modified experience for viewers using ad blockers

Wikia is not accessible if you've made further modifications. Remove the custom ad blocker rule(s) and the page will load as expected.