To Catch a Puppeteer is the fourth episode of the webseries Neil's Puppet Dreams. The episode debuted on the Nerdist Channel on December 18, 2012.
Neil's questionable dream morals get him into a handful of trouble when Puppet Chris Hansen shows up in Neil's dreams "to catch a puppeteer."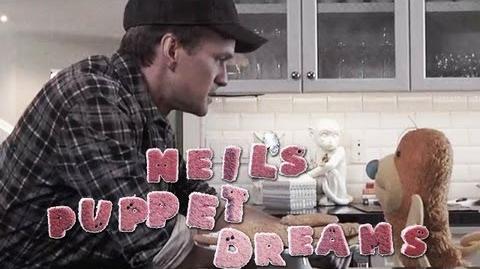 Cast:
Puppeteers:
Crew:
Faux Credits:
The Candyman: Willy Wonka
Willy Wonka: Gene Wilder
Gene Wilder: Acid washed Jordache
Doctor Who: David Tennant
Set Police Officer: Lou Tenant
Frank Drebbin: Leslie Neilsen
People with two first names: John Wayne, George Michael, Katy Perry, Michael Douglas, Bruce Willis, Grover Cleveland, Neil Harris
No strings were pulled in the making of this episode
External links
Edit
Ad blocker interference detected!
Wikia is a free-to-use site that makes money from advertising. We have a modified experience for viewers using ad blockers

Wikia is not accessible if you've made further modifications. Remove the custom ad blocker rule(s) and the page will load as expected.