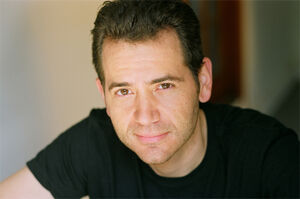 Victor Yerrid is a puppeteer who has worked on many Jim Henson Company projects and is a founding member of the company's Puppet Up! improv troupe and has performed on stage in Puppet Up! - Uncensored and Stuffed and Unstrung. Yerrid also performs the Weasel on the Henson Alternative game show Late Night Liars. Recently, he has been a performer for Neil's Puppet Dreams.
Press bio
Edit
" Victor Yerrid is an actor and puppeteer who likes calling people "Hank" regardless of their name. His credits include The Producers, Team America, Just Like Heaven, Men In Black II, Angel, Crank Yankers, Robot Chicken, Drawn Together, Farscape: The Peacekeeper Wars, Greg The Bunny, Sesame Street, Between The Lions, and Bear in the Big Blue House. Victor enjoys most berry-based smoothies and adores his wife Janet.[1] "
External links
Edit
Ad blocker interference detected!
Wikia is a free-to-use site that makes money from advertising. We have a modified experience for viewers using ad blockers

Wikia is not accessible if you've made further modifications. Remove the custom ad blocker rule(s) and the page will load as expected.