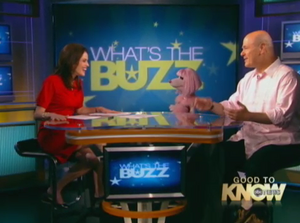 What's the Buzz is a celebrity entertainment news program that airs on ABC News Now, a 24-hour news channel offered via digital television, broadband and streaming video at ABCNews.com and on mobile phones.
Larry Miller and Cashmere Ramada appeared on the program to promote Late Night Liars.
External links
Edit
Ad blocker interference detected!
Wikia is a free-to-use site that makes money from advertising. We have a modified experience for viewers using ad blockers

Wikia is not accessible if you've made further modifications. Remove the custom ad blocker rule(s) and the page will load as expected.